Who we are:
Ecopolis Architecture Group is a group of architecture firms from Romania that work on common projects, in collaboration with engineering firms and various specialists in construction industry. The main common objective is applying the principles of a sustainable development in all types of architectural/engineering design, in accordance with existing national and international green building certificates and standards.
Pro Atrium, the oldest firm in the group, has been active since 1998, when it was founded in Cluj-Napoca. Today Pro Atrium collaborates with Contact Studio and Deco Studio, members of the group, and we have offices in Bucharest and Cluj-Napoca. The group carries out projects located anywhere in the world, for various types of clients from different countries.
Contact persons are: arch. Marius Danciu in Bucharest and arch. Cornelia Danciu in Cluj-Napoca.

What we do:
Our specialists offer you the best solutions for a sustainable project. We offer you:
- The best solution for a truly efficient division of space;
- The best choises for eco-materials and eco-technologies;
- The best solutions for economical sustainability;
- The best environmentally friendly solutions;
- The best cost-quality trade-off analysis.
EAG creates a partnership between architects, urban planners, designers, engineers and other specialists that provides a single source consultancy service for all the documentations needed for a project.
Services:
- Architecture: Site and Building Evaluation, Feasibility Study, Building Concept Design, Design Development, Construction Documents, Building Permit, Bidding or Negotiation, Construction Contract Administration;
- Coordination of Engineering Services;
- Specific Documentation for Environmental Problems;
- Urban Planning;
- Landscape Design;
- Bills of Quantities and Budget Evaluations;
- Interior Design;
- Brand Design;
- Consultancy and Management of Design Process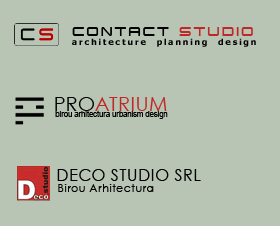 Contact us:


Offices:
Bucharest:
Ecopolis Architecture Group
"Asmita Gardens" - 42 Gladita Street, Tower 7, 15th froor, ap.1501,
district 4
- Mobile: (+4) 0731 405736
- E-Mail: mariusdanciu.ecopolis@yahoo.com

Cluj-Napoca:
Pro Atrium
31 Nicolae Titulescu Bd, ap.21
- Phone/Fax: (+4) 0264 593185
- Mobil: (+4) 0745 639484
- Email: proatriumcluj@yahoo.com